Significant Improvements to Disability Access Across Morningside Campus
Fall 2018 semester begins with several new accessibility improvements that further foster a campus culture of inclusiveness
A new, permanent ramp between College Walk and Lower Campus, a sloped pathway replacing steps leading to Havemeyer Hall, and a lift to connect the lobby and atrium levels of the International Affairs Building were among the disability access improvement projects substantially completed in the summer of 2018.  These high-impact projects join many other recent upgrades as part of a multi-year initiative to improve accessibility around the Morningside campus.
Specific highlights about this summer's accessibility improvement projects included:
At the center of campus, a new masonry accessibility ramp that replaces a temporary metal ramp to provide a permanent access point between College Walk and Lower Campus adjacent to Hamilton Hall.  The project, which is anticipated to be completed by late October, also included brick paver replacements and drainage improvements in the area. 
In front of Mathematics, the pathway across the lawn leading to Havemeyer was dug up and replaced with a new pathway with brick pavers and granite curbing, consistent with campus architecture.  The project replaced steps leading to the plaza in front of Havemeyer Hall with an accessible, sloped pathway, enhanced exterior lighting with Wi-Fi enabled lamp posts, and widened the entryway to Mathematics with new entry doors as well. These outdoor improvements follow the installation of a wheelchair lift in the Mathematics lobby to facilitate building access through the main building entrance
Construction and installation of a new lift to create an accessible connection between the lower and upper levels of the International Affairs Building's fourth floor.  The lift allows individuals requiring assistance who are on the upper level of the fourth floor to seamlessly access the building's elevators, while also allowing individuals who enter the building's main entrance on 118th Street to access amenities on the upper level, including the connection to Jerome L. Greene Hall.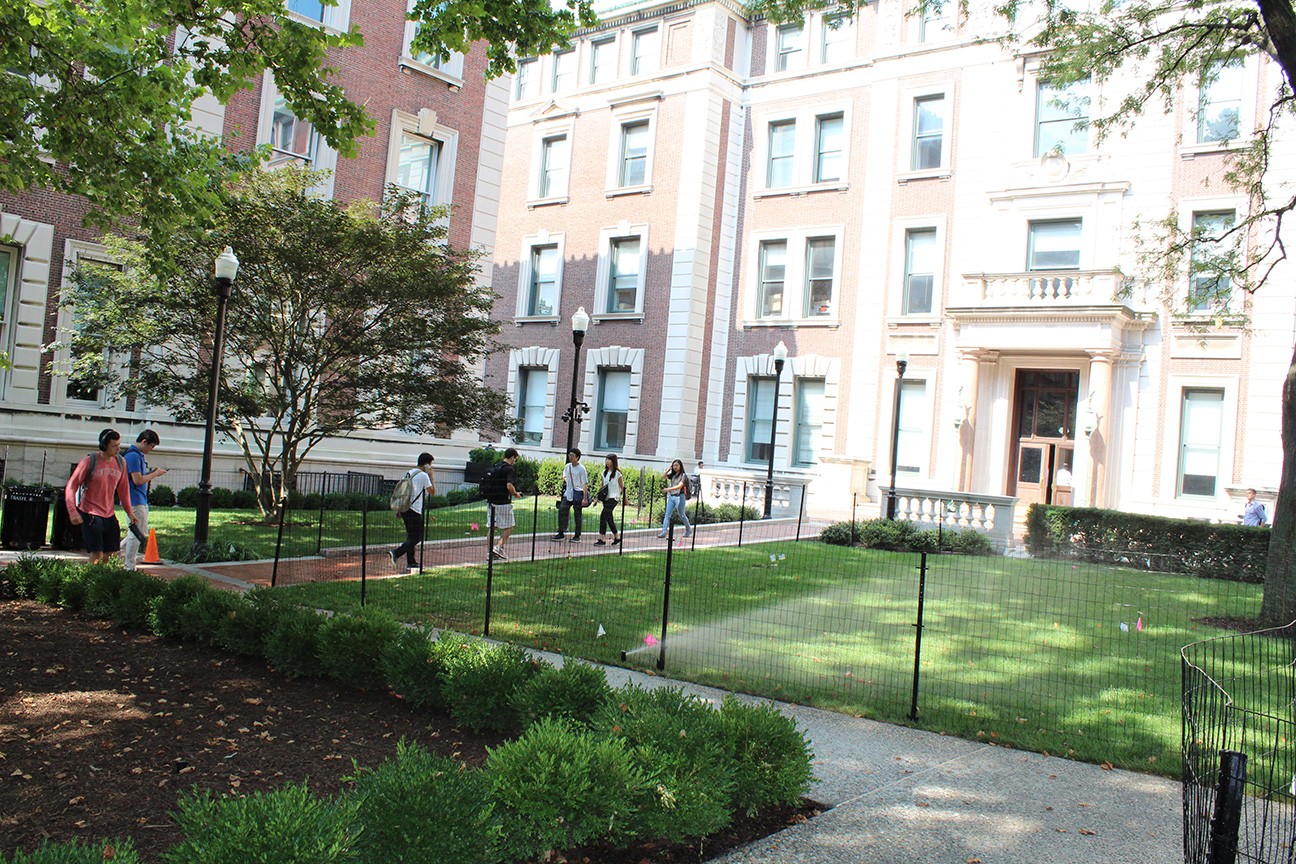 Campus accessibility focuses on creating accessible routes, which includes entry points into campus from the street; access into buildings; creation of and access to accessible restrooms; access within buildings to classrooms and other spaces; and signage to help with wayfinding around campus and within buildings.  While there is much more work to do, FY 2018 set a tone for progress in the years ahead.
"Too often obscured within the beauty of Columbia's historic Morningside campus is the inherent challenge of accessing buildings constructed a century ago without modern-day accessibility standards in mind, along with navigating the terrain's dramatic elevation change between 114th and 120th streets.  With projects large and small completed in FY 2018 – and those planned in the years ahead – we are committed to continuing to address those challenges as we improve accessibility across campus," said David M. Greenberg, executive vice president, Facilities and Operations.
The summer 2018 projects build on the accessibility improvements from several other key accessibility upgrades completed over the past year.  In the spring semester, a new wheelchair lift connecting the vestibule on the campus entry level with the third floor of the Mathematics Building became operational combined with retrofitting the historic entry doors with an accessible push panel for opening, marking the completion of a multi-year design and engineering process.
Also in the spring semester, a limited use/limited application (LU/LA) elevator was completed in Pupin Hall between the 13th and 14th floors. The 14th floor is the hub of Astronomy Department activity, and the new connection ensures that all department members and visitors as well as student Astronomy majors have access to that floor to fully participate in colloquia, seminars, and annual events, along with departmental offices.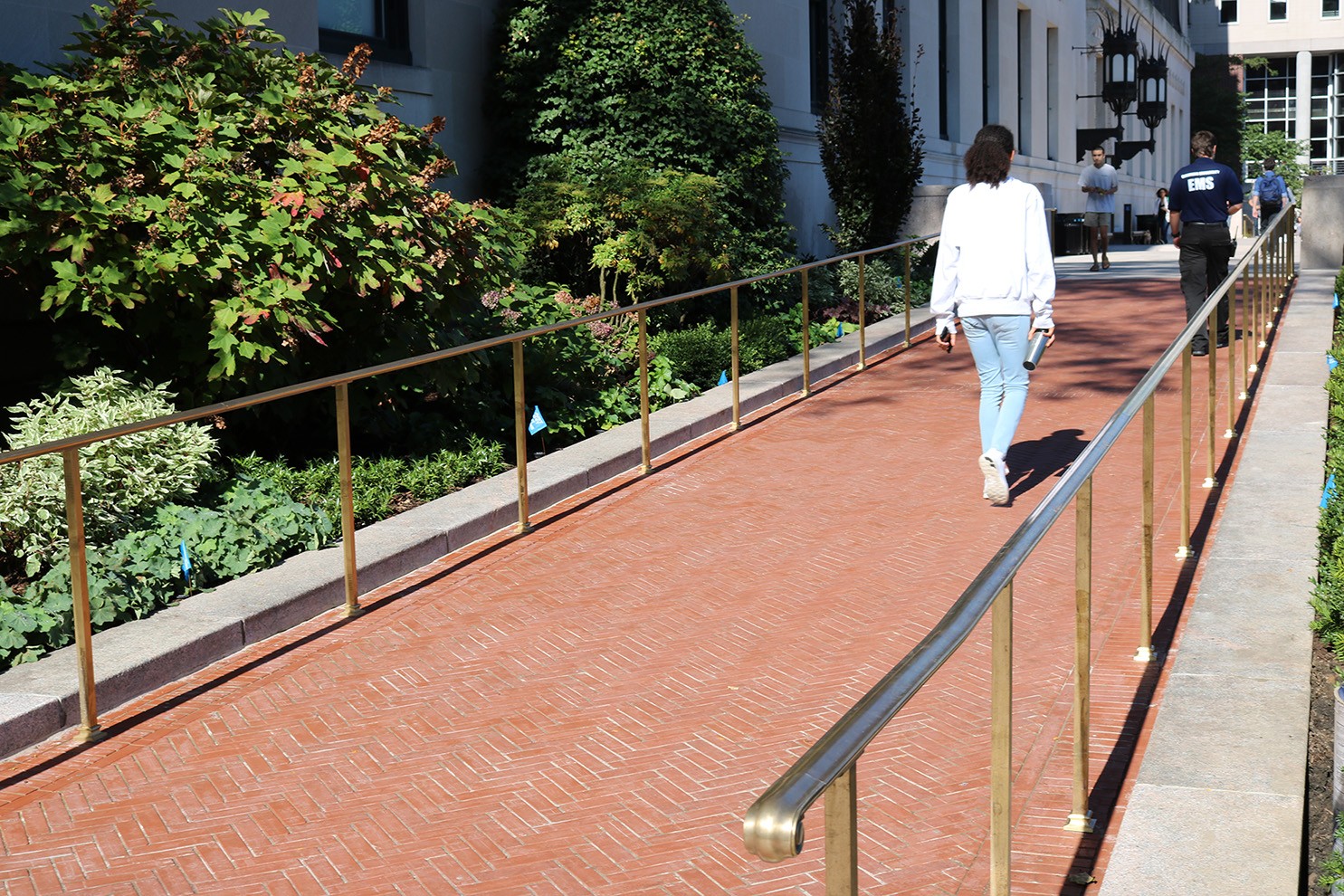 Last summer's Butler Plaza restoration created permanent, sloping pathways from the east and west approaches to Butler Library's main entrance and a permanent ramp and stairs between Butler Lawn and Butler Plaza.  In addition, the project restored the plaza and lawn with new features consistent with the campus's overall architecture and landscaping plan, including benches along the lawn's perimeter to create a more open and welcoming space; adding technical infrastructure for outdoor Wi-Fi to be available on the popular South Lawns for the benefit of students and the community; and improvements to drainage solutions.
"Notable with exterior projects like the ramp adjacent to Hamilton, the Mathematics pathway, and the Butler Plaza project is how we were able to maintain – and even enhance – the historic character of the campus design while substantially improving disability access, a challenge often cited by historic preservationists as an impediment to accessibility projects," continued Greenberg.
Since 2013, approximately 50 restrooms – many of which have multiple stalls – in 40 buildings across the Morningside campus have been upgraded or converted to provide disability access.  Other types of projects aimed at improving accessible routes include automated doors at building entrances, automated doors along accessible routes within buildings, wayfinding signage, classroom upgrades and improvements to some outdoor ramps.
"When I returned to University Facilities and Operations toward the beginning of fiscal year 2016, our team conducted a full review of identified priorities in conjunction with existing studies and projects already in place, and what grew out of that was the multi-year initiative presently in place," said Greenberg.
Highlights of other disability access improvements completed in FY 2018 and recent years prior include:
Implementing an email alert system for outages and other events impacting disability access across campus, allowing people to anticipate closures and plan alternate routes prior to leaving for their destination
Replacing the wheelchair lift in Lewisohn Hall
Creating accessible rooms created on floors 7 through 13 in Carman Hall as part of a multi-year, floor-by-floor renovation of the residence hall
Creating accessible rooms in Wien Hall with private bathrooms
Adding accessible restrooms on every floor of John Jay and McBain residence halls along with eight accessible restrooms in Schapiro Hall
Constructing an entry ramp and adding automated doors into Ruggles Hall as initial steps to improve accessibility at the residence hall
Creating an accessible suite in Hogan Hall, with an accessible bedroom, bathroom and kitchen – the first measure in a series of future improvements at the building
Accessibility improvements at Lerner Hall in the auditorium, cinema, lobby, new computer lab, and main lounge
Automated doors to entrances, classrooms, labs, and restrooms in CEPSR, Chandler Hall, Dodge Hall, Hamilton Hall, International Affairs Building, Jerome Greene Hall, Kent Hall, Lerner Hall, Mathematics, Northwest Corner Building Pulitzer Hall, Pupin, Schermerhorn, Social Work Building, Uris Hall, and Wien Hall
Replaced and automated doors along sky bridge connection between Pupin, CEPSR, and Mudd
Enhancements for disability access in select restrooms of Jerome Greene Hall, International Affairs Building, Mathematics, Pupin, and Schermerhorn
Ongoing accessibility conversions and upgrades of apartment units, when they become available, in select residential buildings
Added logical signage to ease wayfinding from the Dodge elevator through the tunnels of Dodge, Lewisohn, Mathematics, and Havemeyer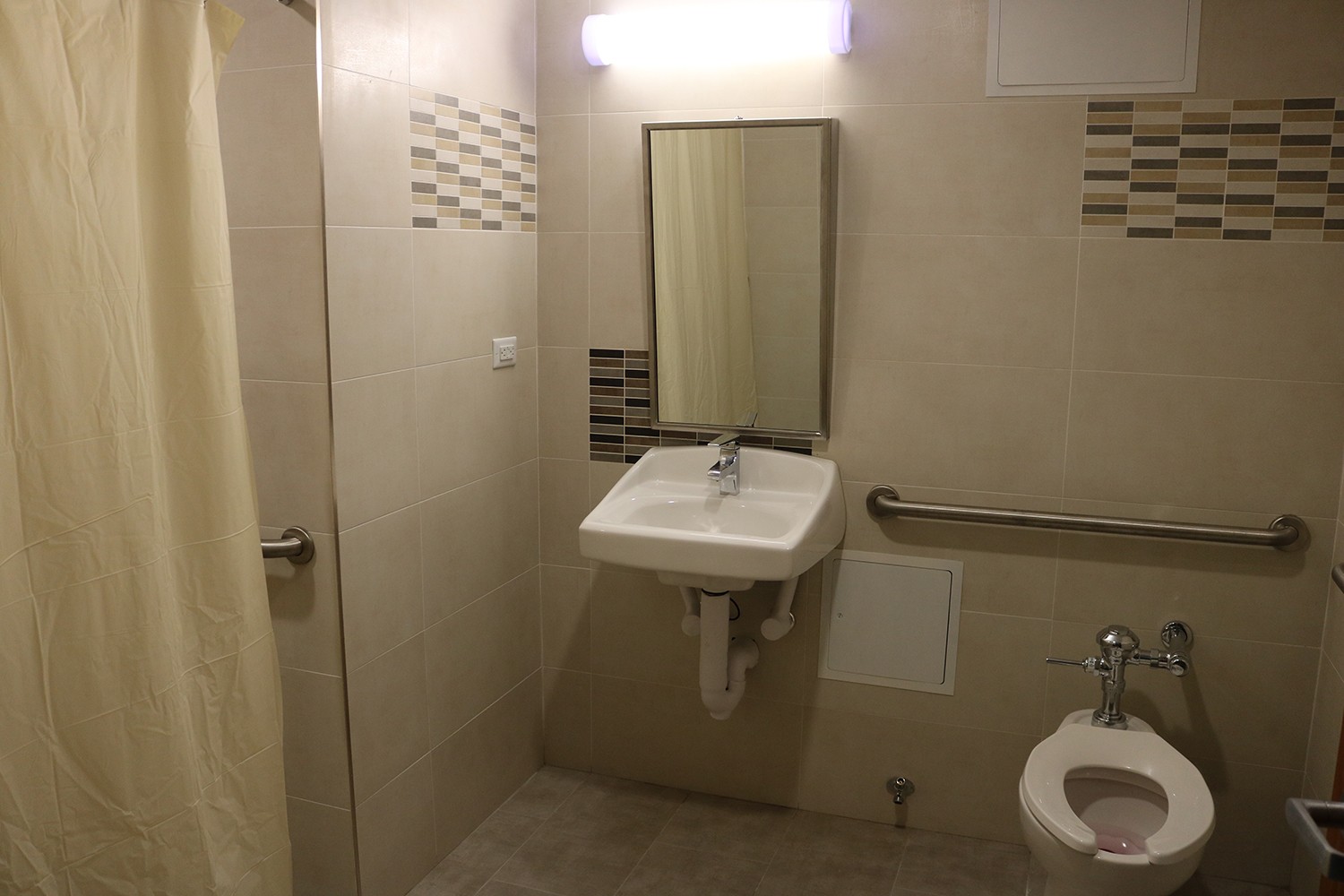 Looking to the years ahead, there are several other accessibility improvements planned as part of the multi-year initiative.  Construction will begin in the Fall 2018 semester for an accessible entrance to Havemeyer Hall at campus level (which is now accessible through the Northwest Corner Building and Chandler Hall), the design of which is intended to be a prototype for all remaining McKim Mead and White buildings that do not have primary access points.  Other future projects will focus on improving accessibility outdoors across campus, such as between College Walk and Low Plaza; adding more accessible rooms and features in undergraduate residence halls; and improving access to enter buildings.
Like any large or complicated capital project, the first step for many of the planned projects is a feasibility study to determine potential solutions and then examine structural impacts and other constraints to implement those solutions.  Projects in the design phase may have multiple years ahead of detailed architectural designs and engineering studies, followed by the construction process, before they reach completion.
"This multi-year initiative would not be possible without the support of the university's central leadership team, particularly the Provost, whose understanding of the need for and the challenges of improving disability access on campus makes projects like these possible," Greenberg said. 
Facilities and Operations welcomes feedback from people with disabilities related to campus grounds and buildings by writing to access@columbia.edu.
The multi-year initiative of accessibility improvements on campus is part of the many ways the University supports people with disabilities, including student disability services, employment disability services, designing and executing commencement to be accessible for graduates and visitors, technology accessibility in conjunction with CUIT, accessible shuttle buses and more.