New Initiatives Enhance Safety on Campus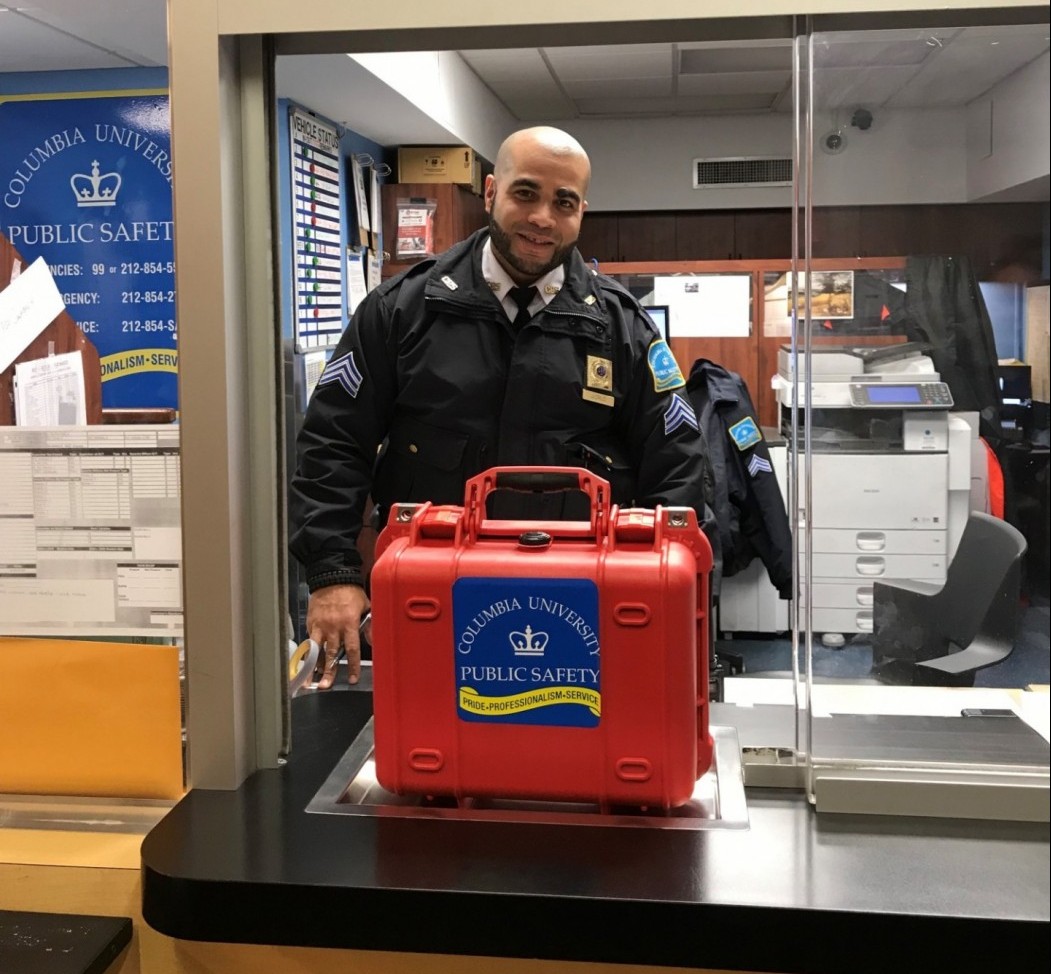 Facilities and Operations departments partnered together to launch several safety initiatives in FY 2018 benefiting the Columbia community, from adding new life safety devices across campus to enhanced training for Columbia Health medical staff and Public Safety Officers.
In the spring, Columbia University initiated a comprehensive program to help save lives on campus in the event of cardiac arrest emergencies requiring the use of an automated external defibrillator (AED).
The public access defibrillation program was designed following the guidelines of the Regional Emergency Medical Services Council of New York City.  It involved the installation of AEDs in locations across the University, along with trainings to increase the number of campus personnel certified to respond to instances of cardiac arrest and use an AED when appropriate.
The program launched with the deployment of four mobile AED units within Public Safety patrol vehicles – two at Morningside and one each at Manhattanville and the Irving Medical Center, followed by the installation of 24 additional AED units – one in each of the Public Safety Operations Centers at Morningside, Manhattanville and Irving Medical Center, and the remainder placed strategically in the lobbies of buildings across each campus to provide optimal response to cardiac arrest emergencies.
"Columbia prides itself on providing the safest environment possible for the tens of thousands of students, faculty, staff and visitors on our campus every day.  There is nothing more important than the well-being of our community. This program represents that high level of care and may help save lives," said David M. Greenberg, Executive Vice President of Facilities and Operations.
When the public access defibrillation program was in the early planning stages in 2017, Public Safety sent three managers to become certified as trainers for CPR and AED use, so that those managers can train the Public Safety workforce directly. Since that time, CPR/AED training has become standard in both new employee and in-service trainings, with more than 90 percent of Public Safety's uniformed staff now trained and certified in responding to cardiac arrest.
Columbia Health has played a leading role in the development of the public access defibrillator program and is providing medical oversight upon implementation. In addition to being trained as CPR first responders, medical professionals from Columbia Health will follow up on every instance of cardiac arrest and use of an AED unit on campus.
"Training personnel in CPR response and providing access to automated external defibrillators in case of emergency are actions directly aligned with Columbia Health's mission to advance the well-being of the Columbia University community.  We are proud to help launch the program and provide ongoing expert support as we broaden the University's health and safety resources," said Dr. Melanie Bernitz, Associate Vice President and Medical Director for Columbia Health.
In addition, Facilities and Operations is supporting the training of volunteer responders (up to five from each AED-equipped building)  for certification in CPR/First Aid response and the appropriate procedures to use an AED. The newly trained volunteers join the existing network of Columbia University CPR first responders at Columbia Health, Public Safety Officers, and CUEMS.
"The support for the rollout of the public access defibrillation program was befitting what one would expect from a world-class institution.  From our campus partners who contributed to the initial design of the program to building staff and volunteers who will be supporting it from the ground level, everyone has recognized the program's life-saving benefits and volunteered their assistance to make the program a success," said Rebecca Lonergan, Director of Compliance for Facilities and Operations and AED program coordinator.
Beyond the public access defibrillation program, and in direct response to the growing nationwide opioid epidemic, Columbia Health and Public Safety trained their teams in opioid overdose prevention and recognition.  Ninety percent of the Medical Services team has been trained in administering naloxone as treatment for suspected opioid overdoses, and all Public Safety supervisors  – inclusive of uniformed sergeants and lieutenants – are trained and equipped with kits to administer naloxone.
Public Safety's expanded training also includes "stop the bleed" procedures for instances when an injury involves massive bleeding. Officers are taught proper bleeding control techniques, including how to properly use hands, dressings, and tourniquets. Public Safety has kits containing essential items to control massive bleeding on hand in every patrol vehicle and several are located within the Public Safety Operation Centers at Morningside, Manhattanville and the Irving Medical Center campuses.
"In those times when a member of the campus community has a medical emergency, their first call is often to Public Safety. Sometimes, seconds count, and the more that our uniformed staff can address directly without needing to wait for additional medical support, the better off our University community will be," said James F. McShane, Vice President for Public Safety.