Columbia's Apprenticeship Program Opens Doors for Employees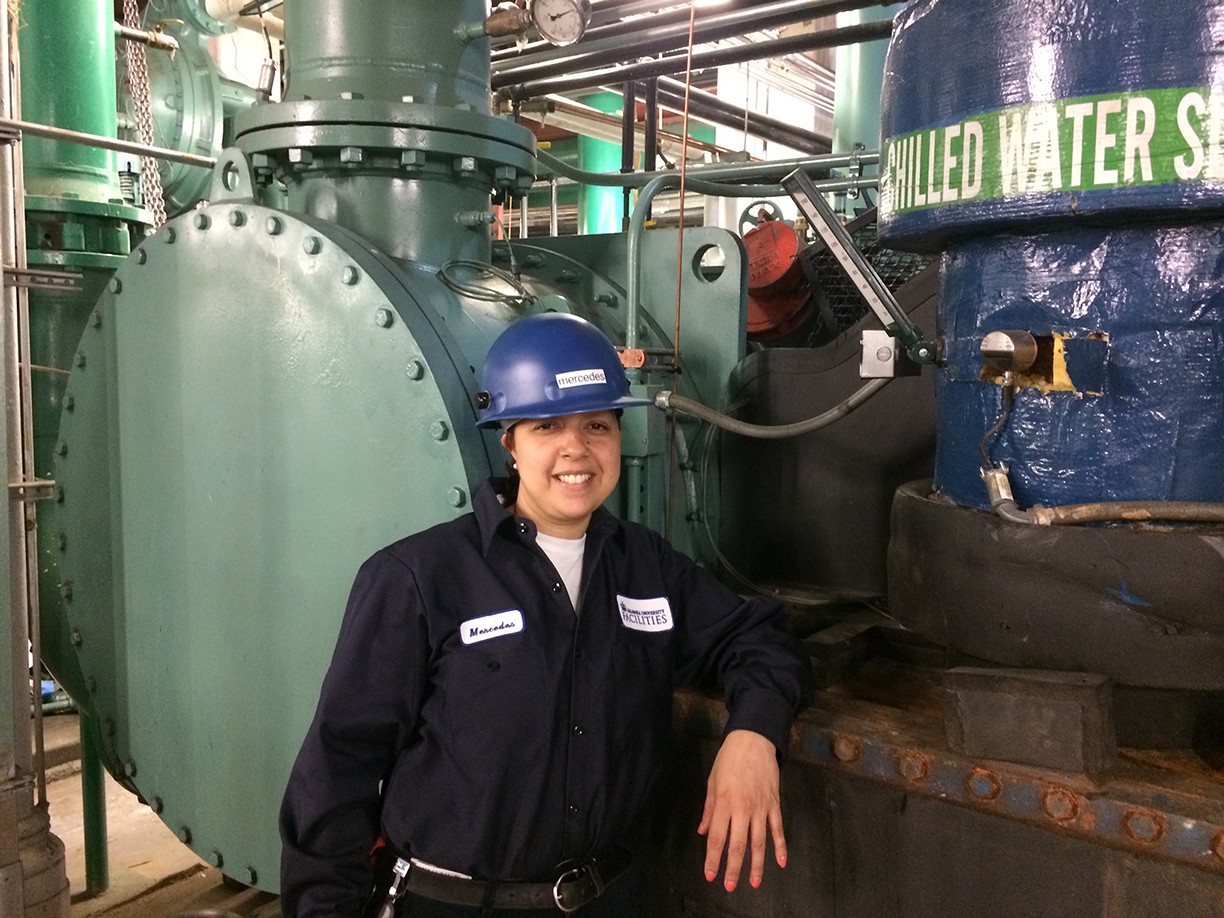 Ever since Mercedes Santana was a child, she enjoyed working with her hands.  So it comes as no surprise that her natural proclivities and talents have served her well in progressing professionally at Columbia University Facilities and Operations – aided by the Facilities and Operations apprenticeship program.  
Santana joined Facilities and Operations as a heavy cleaner in 2006, six years after she relocated to the United States from the Dominican Republic where she worked in accounting.  While successful as a heavy cleaner, she knew she wanted to pursue other opportunities available.  The right one came along when she learned of the Facilities and Operations apprenticeship program through a colleague.
Launched in 2016, the apprenticeship program was created for employees like Santana to learn skilled trades while establishing a needed pipeline of employees ready and prepared for the next opportunity at the University.  The New York State Department of Labor lists maintenance and repair workers as an in-demand field in New York City, but there is a shortage of skilled workers to fill those positions due to retirement and fewer people entering the industry.  Leaders at Facilities and Operations recognized this gap and took the initiative to create the apprenticeship program to train skilled workers to staff positions throughout the University, especially as new buildings open at Columbia's Manhattanville campus. 
"Columbia's apprenticeship program is extremely vital not only to Columbia University, but the industry at large," said Phil Kretzmer, assistant vice president for Manhattanville Operations.  "Our executive team recognized the need and committed time and resources to take action in creating the apprenticeship program.  That proactive vision will be paying dividends to the high-level of operation of the University for years to come."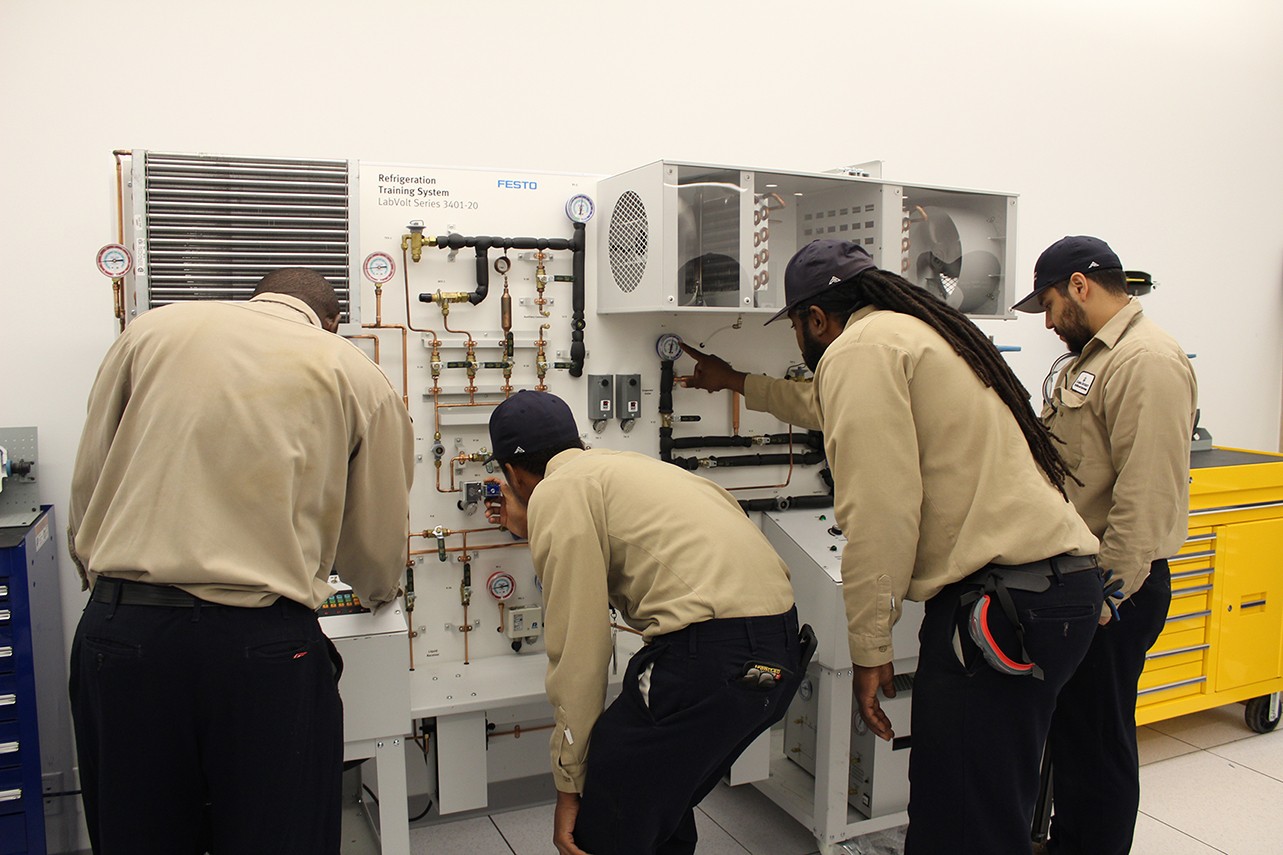 The apprenticeship itself is a competitive, seven-year program, funded by Columbia.  Apprentices receive a combination of classroom education, on-the-job training, and mentorship by senior employees.  Certified trade and technical schools along with leading industry providers conduct education, which takes place at both a dedicated training facility on Columbia's Manhattanville campus and off-site at professional venues as appropriate. 
Apprentices begin the program by receiving exposure to different trades – in the classroom and on the job – such as carpentry, HVAC, plumbing, electrical, masonry, and refrigeration.  After successfully completing three years in the program, an apprentice is promoted to a maintenance worker and can choose a specific trade to pursue for their career.  At the end of the program, an apprentice is well-prepared to fulfill open, skilled worker positions across the breadth of multiple campuses within the Columbia University network.  The initial classes of apprentices are on track to graduate and be available for the next wave of new buildings at the Manhattanville campus, following the opening of The Forum in September.
"The apprenticeship program allows us to develop our own farm system, just like a baseball player rising through the minor leagues," said Lance Symons, executive director, Manhattanville engineering. "Apprentices are trained the Columbia way, meaning that they gain the needed skills along with the intangibles in order to provide the high level of service that we hold ourselves to." 
Facilities and Operations worked with the TWU Local 241 executive board to bring the apprenticeship to fruition.
"The whole idea of the program was groundbreaking and we hadn't seen anything like it before.  It reestablishes the trades and creates diversity," said Alex Molina and Dino Centrone, vice president and secretary treasurer of TWU Local 241, respectively.  "The program is a great opportunity for new and existing employees to gain exposure to the trades and it encourages professional growth."
There are eight apprentices in the program out of thirteen current opportunities available as of August 2018.  Facilities and Operations, in partnership with the TWU Local 241 executive board, are currently interviewing for the balance of open positions.
For Santana, Columbia's apprenticeship was the perfect opportunity to embark upon a new career path in an in-demand field and do something she would enjoy.  With the support from her family, Santana enrolled in the program in January 2017.  Her days were split between class and work at the Manhattanville campus, with her last assignment in the Central Energy Plant. 
From just one year in the program, Santana had gained fundamental knowledge of the operation of a power plant, which boosted her confidence and inspired her to apply to a chiller maintenance position at Columbia's Morningside campus.  Santana was offered the position and started in May, becoming the first woman to join the Chiller Plant team.
Not regretting her shift from accounting, Santana is proud to be in an environment where she can keep learning and growing, and entering a specialized field that is in high demand. 
"I want my family and children to be inspired by my push to grow and advance.  The apprenticeship program opened the door for me to do so in becoming a mechanic," Santana said, beaming with pride.